3D action game Bounty Star: The Morose Tale of Graveyard Clem announced for PS5, Xbox Series, PS4, Xbox One, and PC
Due out in 2023.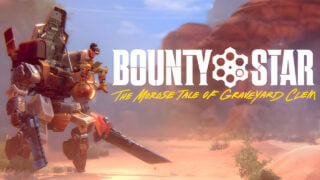 Publisher Annapurna Interactive and developer DINOGOD have announced over-the-shoulder 3D action game Bounty Star: The Morose Tale of Graveyard Clem for PlayStation 5, Xbox Series, PlayStation 4, Xbox One, and PC (Steam). It will also be available via Xbox Game Pass. It will launch in 2023.
Here is an overview of the game, via its Steam page:
About

Bounty Star is an over-the-shoulder 3D action game that marries mech combat and customization with farming and base building. The player takes on the role of a broken but powerful ex-soldier named Clem, a war veteran, talented fighter and expert mech pilot. Clem attempts to shed the guilt and shame of her past and become a legitimate force for good in the Red Expanse, a post-post-apocalyptic version of the American Southwest.
Key Features

Customizable Mech Action – You pilot the Desert Raptor MKII, a Mech of extraordinary power. It is a highly-customizable battle vehicle that can be equipped with a variety of offensive systems: heavy, high-powered melee weapons, steam powered hydraulic siege weapons, explosive firearms, and more. It can also be equipped with a variety of defensive systems; high-speed thrusters, boosters for dashing, riot shields, among others.
Become a Bounty Hunter – The Red Expanse is a rich farming and mercantile region plagued by violent criminals and dangerous beasts. The government that remains outsources justice to experts like Clem—bounty hunters who are free to pursue their targets into whatever dangerous corners of the world they hide. She'll fight her way through many corners of the region and deal with these marks as she sees fit.
Repair and Upgrade Your Homestead – Clem comes into an isolated and run-down garage that serves as a suitable base of operations and home—just barely. Build out water and power supply lines, grow and cook food, produce ammunition and fuel for combat, and raise animals. This decrepit ruin has a lot of potential, but it will have to grow alongside Clem.
Watch the announcement trailer below. View the first screenshots at the gallery.
Announce Trailer