Warhammer 40,000: Space Marine II 'Foundations of War' developer diary
A behind the scenes look at the upcoming third-person shooter.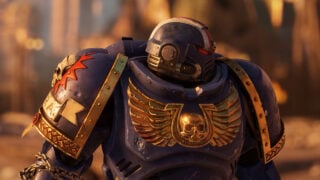 Publisher Focus Entertainment and developer Saber Interactive have released a new developer diary for third-person action game Warhammer 40,000: Space Marine II.
Here is an overview of the developer diary, via Focus Home Interactive:
This developer diary introduces Saber Interactive's chief creative officer Tim Willits and creative director Oliver Hollis-Leick, flanked by Clive Standen, who portrays the fan-favorite Captain Titus. Watch now to meet the team and discover new in-game snippets of the high-octane action experience coming to players and Warhammer 40,000 fans.

This teaser takes you to the committed atmosphere behind the scenes of Warhammer 40,000: Space Marine II, as Tim Willits and Oliver Hollis-Leick let you in on their team's high expectations, passion, and design philosophy. The project bears the weight of millions of followers' expectations, a stimulating force for the development team—not the least of expectations being their own!

Actor Clive Standen (Vikings, Taken) is also seen at work and shares insights on the challenging transformation process into the iconic Captain Titus. It incorporates itself in the high-standard framework dedicated to the accuracy and quality of essential elements to the franchise, such as the massive scale of a universe constantly at war, and within it, the brutal efficiency of Space Marines.
Warhammer 40,000: Space Marine II is in development for PlayStation 5, Xbox Series, and PC.
Watch the developer diary below.