The Chant story trailer
Horror action adventure game due out this fall.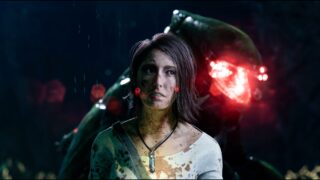 Publisher Prime Matter and developer Brass Token have released the story trailer for horror action adventure game The Chant.
Here is an overview of the game, via Prime Matter:
Welcome to the Prismic Science Spiritual Retreat located on remote Glory Island. Discard your baggage from the past and transform your Gloom to Glory.

When a ritualistic chant on Glory Island goes wrong, a visiting group's negative energy unleashes a dimension of cosmic terror called the Gloom. To survive the Gloom, you must uncover a cultish mystery spanning both past and present, as the other group members slowly go mad from a host of parasitic creatures.

These horrors prey on your own fears, and can be fatal unless you carefully balance your mind, body, and spirit. Choose to flee or fight with an assortment of spiritual weapons and abilities that lock away the Gloom and escape from Glory Island.
"In The Chant, our aim is to surprise players with an off-kilter mix of 1970s cult horror and New Age spirituality," said Brass Token creative director Mike Skupa in a press release. "As a boutique studio, we have the freedom to try new things and we're challenging ourselves every day with our first title."
The Chant is due out for PlayStation 5, Xbox Series, and PC via Steam this fall.
Watch the trailer below.