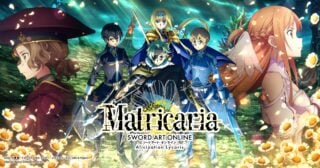 Publisher Bandai Namco and developer AQURIA have announced Sword Art Online: Alicization Lycoris downloadable content expansion "Blooming of Matricaria." A release date was not announced.
Get the first details below.
Story

In order to protect the Underworld, to prevent the coming future of collapse, the Human Realm have been accumulating its strength.

Kirito's sword has brought everyone together, and the bond has become power that can fight against any kind of difficulties they would face.

With Cardinal leading the group, the countermeasure meeting for the "Final Stress Test" has begun…

However, the bell of destruction rings unreasonably.

Hear me, for I shall activate the Divine Object of mass destruction, the Refactoring Golem!

The battle that shook the human realm, later known as the "Hundred Days War," had begun.

100 days until the destruction of the human realm.

New Character: Log

A natively charming boy who has a distinctive eye patch over his right eye. He is from the Human Realm, and seems to have known Kirito, Eugeo, and Alice for a long time…

He fights like a mighty beast, making full use of his large shield and one-handed axe.

New Weapon: Shield & Axe

A new weapon type that Kirito and Rogu can equip. It has both a "tank" role, gathering enemy Aggro and preventing attacks, and an "attacker" role, overwhelming the enemy with increased firepower based on the level of Aggro it gathers.

Despite its appearance, it can also be used for landing quick attacks against your enemy.
Sword Art Online: Alicization Lycoris is available now for for PlayStation 4, Xbox One, and PC via Steam.
Watch a teaser trailer and live stream archive below.
Teaser Trailer
English
Japanese
Announcement Live Stream Archive