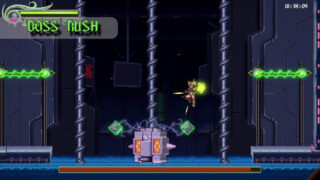 Publisher DANGEN Entertainment and developer X PLUS Company have released a new update for the PC version of Smelter dubbed "Forged in Hell," which adds three new gameplay modes. The console versions will follow "shortly."
The three new modes are as follows:
Action Mode – A modified version of the game which removes the strategy stages and allows players to play through the game in pure action-platforming mayhem, similar to Mega Man.
Boss Rush Mode – An unlockable mode that allows players to challenge all of the game's tough-as-nails bosses in succession.
Classic Mode – The original version of the game, combining overhead real-time-strategy stages with action-platforming levels, similar to Actraiser.
Smelter is available now for PlayStation 5, PlayStation 4, Xbox One, Switch, and PC via Steam, GOG, Humble Store, and itch.io.