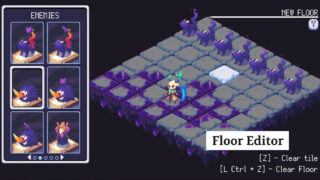 Publisher DANGEN Entertainment and developer Lunic Games have released a new update for the PC version of Evertried, which adds a Floor Editor as well as a bug reporting tool and automated reporting tool. The console versions will follow later in 2022.
Here are the details:
Floor Editor (Beta) – Players can now create, play, and edit their own floors. Using the Floor Editor menu, players can design their own completely original floors with the game's various enemies and hazards, then share them with other players across the globe (internet connection required).
Bug Reporting Tool – Players can now report bugs with logs through the pause menu, instead of manually fetching the logs.
Automated Report – The game will now detect critical issues and report the logs automatically to increase bug fixing efficiency.
Evertried is available now for PlayStation 4, Xbox One, Switch, and PC via Steam, GOG, and Humble Store.