Assassin's Creed Celebration live stream set for June 14
The Assassin's Creed series is turning 15.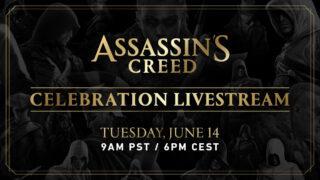 Ubisoft will host an Assassin's Creed Celebration live stream on June 14 at 9:00 a.m. PT / 12:00 p.m. ET, the company announced. You will be able to watch it on YouTube and Twitch.
The broadcast, which will celebrate the 15th anniversary of the Assassin's Creed series, will feature a special look at the future of Assassin's Creed Valhalla, a look back at the franchise, and a tease of what's to come later in 2022. The Ubisoft News team will also showcase Assassin's Creed Origin's new 60 frames per second gameplay update alongside producer Jose Araiza before taking a look at the news and updates regarding the latest and upcoming Assassin's Creed comics, graphic novels, manga, and more.