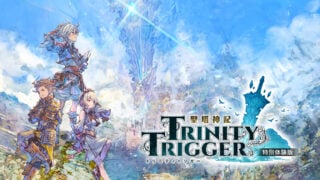 Update 06/24/22 at 10:52 a.m.: A FuRyu representative has told Gematsu that although a PC version is under consideration, Famitsu's listing of a PC version is an error. The only confirmed platforms for now are PlayStation 5, PlayStation 4, and Switch.
Original 05/25/22 at 3:15 p.m.: A demo for Trinity Trigger, the new action RPG published by FuRyu and developed by Three Rings, is now available for PlayStation 4 via PlayStation Store and Switch via Nintendo eShop in Japan. The PlayStation 4 version costs 100 yen (approx. $1 USD) (Update: The demo is now free), while the Switch version is free. This is because the game has yet to be rated and is treated as a "CERO Z" title on PlayStation, which requires a credit or debit card purchase to prove the user is over 18 years of age.
Additionally, the latest issue of Weekly Famitsu reveals that Trinity Trigger will also be available for PC alongside its previously announced PlayStation 5, PlayStation 4, and Switch versions.
The magazine also reveals the following voice cast:
Characters

Cyan (voiced by Taichi Ichikawa)
Elise (voiced by Kanna Nakamura)
Xantice (voiced by Ryota Iwasaki)

Triggers (Spirits)

Flam (voiced by Konomi Kohara)
Viz (voiced by Fairouz Ai)
Rai (voiced by Shiori Izawa)
Trinity Trigger is due out on September 15 in Japan. Read more about the game here.
View a new set of screenshots at the gallery.