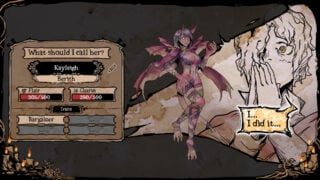 The Switch and PC (Steam) versions of dating, management, and alchemy simulation game My Lovely Wife will launch on June 8, publisher Neon Doctrine and developers GameChanger Studio and Toge Productions announced.
As previously announced, PlayStation 5, Xbox Series, PlayStation 4, Xbox One, and iOS versions will follow in July or August.
Here is an overview of the game, via its Steam page:
About

From the creators of My Lovely Daughter comes a twisted tale of undying love.

Play as Jake, a loving husband and grieving widower who is granted the knowledge to summon dozens of succubi by a mysterious man. Work with those succubi, make them fall in love with you… and sacrifice them to create a vessel for your wife's soul.

It all starts with a letter… A letter with a familiar handwriting and bearing a signature none other than hers—Luna, the love of your life gone too soon. In the letter, she asks you to perform otherworldly rituals to bring her back to life!

Key Features

A mix of dating, management, and alchemy simulations in one game.
Twenty different succubi to summon, befriend, and betray.
Over 40 endings, including one for each of the succubi as well as two main endings for following through on Jake's dark desires.
Gothic fantasy art style fitting for the dark themes of the game.
An eerie soundtrack that sends shivers down your spine.
An uncanny love dilemma as Jake must crush the lives of others in order to save his dear Luna.