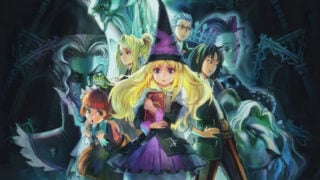 Publisher Nippon Ichi Software and developer Vanillaware have released the third official trailer for GrimGrimoire OnceMore.
The trailer, dubbed the "Characters" trailer, introduces the students and teachers around protagonist Lillet Blan.
The game's new voice cast includes:
Lillet Blan (voiced by Iori Saeki)
Bartido Ballentyne (voiced by Miyase Naoya)
Margarita Surprise (voiced by Miharu Hanai)
Surley (voiced by Ryuunosuke Watanuki)
Hiram Menthe (voiced by Yuta Aoki)
Amoretta Virgine (voiced by Miho Morisaki)
Gammel Dore (voiced by Teruo Seki)
Advocat (voiced by Hiromichi Tezuka)
Opalnaria Rain (voiced by Akari Kageyama)
Chartreuse Grande (voiced by Kazuyoshi Hayashi)
Calvaros (voiced by Michitake Kikuchi)
Lujei Piche (voiced by Wakana Maruoka)
Gaff (voiced by Eriko Matsui)
GrimGrimoire OnceMore is due out for PlayStation 4 and Switch on July 28 in Japan. Read more about the game here.
Watch the trailer below.