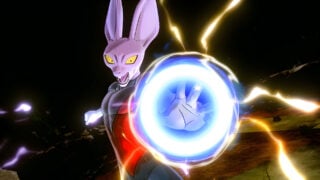 Publisher Bandai Namco and developer Dimps have announced Dragon Ball Xenoverse 2 downloadable content character Dyspo, who will join the game via the "Awakened Warrior Pack" due out this summer.
Here is an overview of the upcoming content, via Dragon-Ball-Official.com:
New DLC Character Confirmed: Dyspo

Hailing from the ranks of Universe 11's heroic Pride Troopers, the supersonic warrior Dyspo is coming to Dragon Ball Xenoverse 2! When it comes to speed, no other warrior can hold a candle to Dyspo—even light itself gets left in the dust!

And since he'll be joining the game as a playable character, all that speed is yours to harness!! Close the distance between you and your enemies in the blink of an eye and unleash Dyspo's wide array of attacks before they know what hit them! His Awoken Skill "Supersonic Mode" further increases his movement speed and buffs certain attacks at the cost of constantly draining Ki, so knowing when and where to use it will be the key to victory with this character!

New Capsule Corporation Mascot: Icarus (free)

A new face is joining Bulma's line of Capsule Corporation mascots! The players made their voices heard in the Conton City Poll to decide which mascot would be added to the game next, and the one who rose to the top was Icarus! Making their Dragon Ball debut in the 1990 movie Dragon Ball Z: The Tree of Might, Icarus is a dragon who was befriended by Gohan in his childhood. In Dragon Ball Xenoverse 2, Icarus's dance animation has been designed to recreate their adorable mannerisms from the 1991 movie Dragon Ball Z: Lord Slug!

Icarus will be available in two special colors—Gohan (Youth) Colors and Demon Clan Colors—as well as their original color scheme. All three are winners in our book, so maybe you'll end up collecting the whole set!

New Figures Coming to the Hero Colosseum (free)

The Hero Colosseum is taking Conton City by storm! It's a game mode inside Dragon Ball Xenoverse 2 where you can battle it out with almost 700 figures of Dragon Ball characters! Joining the figure roster this time are the two characters selected by players in a previous Conton City Poll: Goku (Ultra Instinct -Sign-) and Dyspo!
Dragon Ball Xenoverse 2 is available now for PlayStation 4, Xbox One, Switch, PC via Steam, and Stadia.