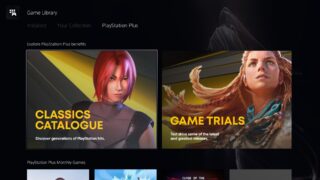 The PlayStation Plus Classics Catalog will add original PlayStation game Dino Crisis, if a promotional banner for the service featuring series operative Regina means anything.
Users can see the banner by logging into an Asia-based PlayStation Network account with PlayStation Plus benefits on a PlayStation 5, as Asia is currently the only region where the new service is available, and accessing the "PlayStation Plus" section of "Game Library."
Several users on Twitter have confirmed seeing the banner.
Despite Regina being featured in the banner, Dino Crisis is currently not available as part of the PlayStation Plus Classics Catalog, which features emulated PlayStation classics playable on PlayStation 5 and PlayStation 4.
The new PlayStation Plus launched on May 23 in Asia, and is scheduled to launch on June 1 in Japan, June 13 in the Americas, and June 22 in Europe. The launch games lineups for those regions have yet to be announced.
Thanks, ResetEra.