Ultra Age for PC launches April 28
Currently available for PlayStation 4 and Switch.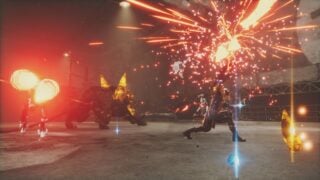 The PC version of Ultra Age will launch via Steam on April 28, publishers Intragames and DANGEN Entertainment, and developers Next Stage and Visual Dart announced.
Here is an overview of the game, via its Steam page:
About

A distant future in which ecosystems are destroyed and resources are depleted due to the collapse of fusion power generation. Age, a member of 'Orbit', receives an order to 'survey on the ground'.

Key Features

Dramatic Action and Impressive Combos – In 3174 when Earth's resources were depleted and ecosystems were destroyed by meteors, humans are divided into the ones who escaped the Earth and settled in the space colony "Orbital Arc" and the others who settled in the Earth's "Shelter" facility. When all supplies to send from Shelter's people to 'Orbital Arc' are cut off, mankind begins an experiment to find the last hope. AGE who is a young warrior and good with a sword is fallen from 'Orbital Arc' to Earth, and embarks on a journey with Android Helvis to find the essential key for the survival of mankind.
Various Weapons – Using the blade's power and agility, you can execute fast and stylish combo actions. Quick attribute identification and manipulation are essential to defeat different types of enemies.
Proximity Battle with Wire Actions – AGE has to cope with countless monsters and giant bosses who block his way.
Various Enemies and Huge Bosses – You can use wires to attract small enemies or run quantum warps to instantaneously approach large enemies. It is important to use wires strategically such as overcoming numerical inferiority, crossing cliffs and collecting items quickly.
Skill Tree System – For growth, players should gather resources to strengthen their weapons, expand their skills and learn new combo. Modules and power gears can be installed to level up AGE and prepare weapons to defeat powerful enemies. Helvis also provides critical rage for powerful attacks, healing pockets for recovery and time shift for more items.
Watch the PC launch trailer and Ultra Age Roadmap Conference below, which outlines the improvements (graphics, frame rate, and so on) added to the PC version.
Launch Trailer
Roadmap Conference