Soul Hackers 2 – Milady trailer
An agent of the Phantom Society.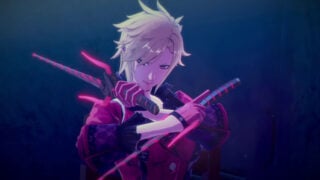 ATLUS has released the second character trailer for Soul Hackers 2, which introduces Milady (voiced by Ami Koshimizu).
The official Japanese website was also updated with the following new character page:
Milady (voiced by Ami Koshimizu)

Organization: Phantom Society
Height: 175cm
Hobby: Collecting spices
Favorite Food: Wonton noodles
Favorite Place: Izakaya in Karakucho
Current Obsession: Late-night movies in Karakucho
Recently Laughed At: Arrow's idealistic thinking
Concerned About: Arrow's way of life
Birthday: July 24

An agent of the Phantom Society, another of the Devil Summoner factions. She's killed by her own allies for reasons unknown. She is resurrected by Ringo's soul hacking, and decides to work with her to find out why she was killed. Calm and collected, she operates with logical thinking and efficiency, sometimes leading her to make decisions that others may deem heartless. It seems this may have something to do with her past.

——Milady's COMP: Stigma

Milady attacks using a sai-style COMP. It has a high aptitude for fire skills, and its firepower is a cut above the rest. With high intelligence, as she grows she will learn skills to simultaneously attack and recover MP.
Soul Hackers 2 is due out for PlayStation 5, Xbox Series, PlayStation 4, Xbox One, and PC via Steam on August 25 in Japan and August 26 worldwide. Read more about the game here.
Watch the trailer below. View a set of screenshots and character artworks at the gallery.
Milady Trailer
Screenshots