Nintendo 64 – Nintendo Switch Online adds Mario Golf on April 15
First launched in June 1999.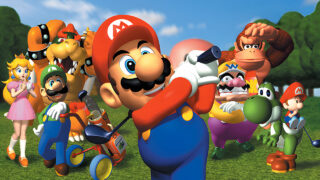 Nintendo 64 – Nintendo Switch Online will add Mario Golf on April 15, Nintendo announced.
Mario Golf first launched for Nintendo 64 in June 1999.
Here is an overview of the game, via the back of the game box:
About

Get into the swing!

Tee off with Mario and friends in the most entertaining golf game ever to hit the Nintendo 64 system! Taunt your opponents to break their concentration, place bets in multi-player games, and see replays of your best shots. View the detailed terrain from multiple camera angles and earn Experience Points to get to the next course. With 10 different play modes, six championship courses, and up to 14 characters, golf has never been this much fun!

Key Features

Play 10 different modes, including Tournament, Speed Golf, Ring Shot, and even Mini-Golf!
Choose from up to 14 unique characters, such as Mario, Luigi, Peach, Yoshi, and Wario—each with his or her own power and swing style.
Easy-to-learn gameplay makes Mario Golf fun for all ages!
Watch a trailer below.
Japanese