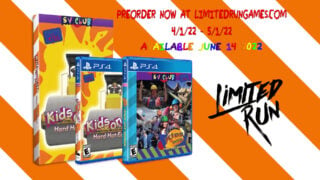 Screaming Villains has announced full motion video game re-release Kids On Site Hard Hat Edition for PlayStation 4 and PC (Steam). It will launch on June 14.
Kids On Site first launched for Sega Mega-CD in November 1994.
Limited Run Games will produce a physical edition of the game for PlayStation 4 in both $29.99 standard and $79.99 Collector's editions. Pre-orders are available now until May 1.
Here is an overview of Kids On Site Hard Hat Edition, via Screaming Villains:
Kids have had lots of opportunity to watch big equipment in action. Now, put your child in the driver's seat.

Let the colorful and zany cast of characters, Bertha, Dizzy, Nuts, and the Coffee Break Gang. Guide your kid through the real thrills of operating heavy construction equipment. Kids on Site delivers 100 percent real video with instant Interactive responses.

Your kid's in charge, at the controls, of real monster machines on a real construction site and working with real people, not cartoon characters. With Kids On Site, They'll be digging in the dirt, swinging the wrecking ball, making new friends and most of all, having fun.
Watch the announcement trailer below.