Gearbox Publishing to publish free-to-play top-down looter-shooter Relic Hunters Legend for PC
Gather up your friends, gear up, and save the galaxy.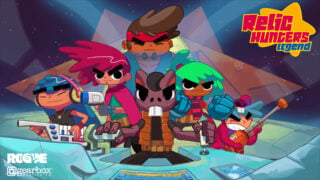 Gearbox Publishing will publish Rogue Snail-developed free-to-play top-down looter-shooter Relic Hunters Legend, the companies announced. It will be available for PC via Steam. A release date was not announced.
"It was here at PAX East, almost two years ago to the day when we started conversations with Gearbox—now we're unveiling our partnership to the world, and we couldn't be more excited," said Rogue Snail CEO and Relic Hunters Legend creative director Mark Venturelli in a press release. "We'll have a lot more to share on Relic Hunters Legend soon and how everyone can get involved."
Here is an overview of the game, via its Steam page:
About

Relic Hunters Legend is an in-development free-to-play online looter-shooter RPG featuring exciting, fast-paced gameplay, a ton of powerful equipment and weapons with tons more customizable options, and a cast of rowdy rebels with different skills and abilities that you can fine tune to match your playing style!

Relic Hunters Legend is free because it allows for more people, all around the world, to enjoy the game. Our goal is to make a good game, with a fair monetization system, that can make money and be sustainable without exploitative practices. We believe that free-to-play games can be fun and fair for everyone! So come dive into an epic adventure with the Relic Hunters to recover lost Relics and "Duck, Duck, Loot" some Ducans!

Story

The evil duck, Duke Ducan, has somehow stolen the past and tells everyone that he is responsible for everything good that has ever happened – providing legitimacy to his oppressive galactic regime.

The Relic Hunters, led by Pinkyy, travel around the Galaxy looking for ancient ruins and Relics of the old civilization, trying to restore the memory of the true Past. In this journey, the crew meets a mysterious ally: Seven, who has no memories and the strange ability to travel back and forth through time.

Wanna know more? Our story is also expanded by the Comics (which tell the events that happened before 'Legend') and animated short movies! Check out the Comics for FREE!

Key Features

Power Up – Choose from several Hunters with unique abilities, upgrade your equipment, and customize skills to perfect your Relic-Hunting machine! Relic Hunters Legend is an exciting looter-shooter RPG where you can customize each Hunter to fit your playstyle. Enjoy theory-crafting and tons of stats that will satisfy the most hardcore players!
Be a Rebel – Online cooperative play for up to four players! Play the campaign solo, play with your friends, or make some new friends in this exciting and fun-filled galactic adventure! Enhance your experience by joining the Relic Hunters Legend official Discord channel. Be among the first to learn about in-development features and talk directly with the Rogue Snail team—let your voice be heard!
Adventure Awaits – Run and gun online in full 3D environments with smart enemies, cool abilities, and upgradable weapons and armor. Chill out solo, with people you know, or help out some fellow rebels in need! Put on your game face and tackle some serious challenges or a kick-back looting mission whenever you feel like it.
PC Optimized – Featuring 4K Resolution, unlocked frame rate, ultrawide support, as well as fully customizable controls and many options to make your gameplay smooth like butter.
Watch the partnership announcement video below.