Epic Games enters into multi-game publishing agreement with AQUIRIS
Contract covers "future unannounced multiplatform games."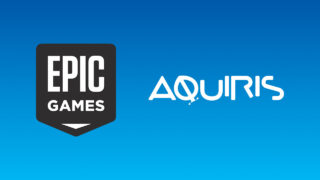 Epic Games has invested into Wonderbox: The Adventure Maker and Horizon Chase developer AQUIRIS, as well as entered into a multi-game publishing agreement for future unannounced multiplatform games, the companies announced.
"We are thrilled to partner with Epic Games," said AQUIRIS CEO Mauricio Longoni in a press release. "It's a strong endorsement of what AQUIRIS has built so far, and we can't wait to show the world what we are working on together. Epic's publishing power and close collaboration withus on tech, business intelligence, and product development will help us boost the quality and the reach of our titles."
Epic Games head of third-party publishing Hector Sanchez, who will also join the AQUIRIS board of directors, added, "AQUIRIS not only have a keen eye for quality game experiences, but have demonstrated great artistic and technical capabilities with their utilization of Unreal Engine in their products. We're honored to have this opportunity to strengthen our relationship with one of the premiere studios in the growing and important Latin American development scene."
Further details about the investment were not announced.