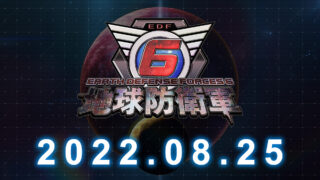 Alien third-person shooter Earth Defense Force 6 will launch both physically and digitally for PlayStation 5 and PlayStation 4 on August 25 in Japan for 8,980 yen, publisher D3 Publisher and developer Sandlot announced.
A digital Deluxe Edition will also be available for 12,100 yen, which includes the game, Season Pass, and a number of other bonuses.
PlayStation Store pre-orders will begin on April 30 at a 7,633 yen discount price for the standard edition, and 10,285 yen for the Deluxe Edition. Pre-orders include the Wing Diver support equipment "Reverse Core N-Type."
Users who purchase the PlayStation 4 version will be able to upgrade to the PlayStation 5 version, and both versions support up to four players cross-platform multiplayer. The PlayStation 5 version will be playable at 4K resolution.
First-print copies of the game will include decoys of Hololive Virtual YouTubers Ookami Mio, Shirakami Fubuki, and Nakiri Ayame. A decoy is a balloon that acts as a decoy to draw the enemy's attention.
The following retailer-specific purchase bonuses will also be available:
PlayStation Store

—Air Raider Piloted Weapon: "Combat Frame Nix Metal Coat"

—Ranger Piloted Weapon: "Blacker Number 6"

D3P Web Shop

—Fencer Weapon: "Onee Chanbara Origin Disguised Body Pillow"

—Ranger Weapon: "Aerial Reversal MO"

GEO

—Wing Diver Independent Operation Equipment: "Handy Saber Type-0"

Amazon

—Ranger Weapon: "MR98 Fang Broken"

Yodobashi Camera

—Fencer Upgrade Parts: "Gunners Skeleton"

Joshin

—Ranger Weapon: "A60 Binary Bullet"
Watch a new trailer and the archive for the latest Earth Defense Force 6 official live stream below. View a new set of screenshots at the gallery.
Fifth Trailer
Official Live Stream Episode 10 Archive
Screenshots