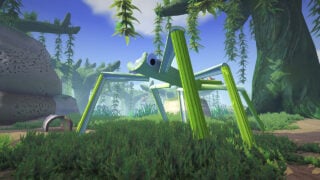 Young Horses will release Bugsnax for Xbox Series, Xbox One, Switch, and PC via Steam and Microsoft Store on April 28 alongside the free content update "The Isle of Bigsnax" across all platforms, the developer announced. The new versions will be priced at $24.99 with a 20 percent-off launch discount. It will also be available via Xbox Game Pass for Console, Cloud, and PC.
Bugsnax first launched for PlayStation 5, PlayStation 4, and PC via Epic Games Store on November 12, 2020.
Here is an overview of "The Isle of Bigsnax," via Young Horses:
The Isle of Bigsnax's main campaign includes three to four hours of new story content—with Yuri Lowenthal, Casey Mongillo, Debra Wilson, and Haviland Stillwell returning to voice their respective grumpuses—and new exciting Bugsnax and mysteries to discover. Players will find even more to do on the main island of the original game with new mail quests from the grumpuses to complete, hats to acquire for your favorite snax, and your very own hut to decorate and call home!
Watch a new trailer below.