Wanted: Dead SXSW 2022 trailer
"Dynamite action. Fatal attraction. 100% satisfaction."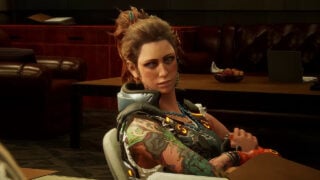 Publisher 110 Industries and developer Soleil have released the SXSW 2022 trailer for third-person action game Wanted: Dead.
Here is an overview of the game, via 110 Industries:
Created by 110 Industries and developed by Soleil, Wanted: Dead is a deep action title inspired by the mechanically rich combat systems found in titles like Devil May Cry, Bayonetta, and Ninja Gaiden. Set in a dark and dangerous vision of cyberpunk Hong Kong, it places players in the role of Lt. Hannah Stone, leader of an elite team known as the "Zombie Squad," who work outside the purview of the traditional police force.

Stone's elite combat skills combine style and substance to deliver cool slow-motion sequences, badass John Wick-style finishers, a limb severing mechanic that changes enemy attack patterns and light tactical elements in the ability to issue orders to teammates.
Wanted: Dead is due out for PlayStation 5, Xbox Series, and PC in 2022.
Watch the trailer below.
Update 03/12/22 at 10:00 p.m.: View a new set of screenshots at the gallery.