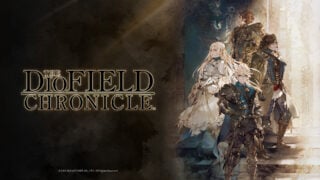 Publisher and developer Square Enix, and developer Lancarse have announced real-time strategy RPG The DioField Chronicle for PlayStation 5, Xbox Series, PlayStation 4, Xbox One, Switch, and PC (Steam). It will launch in 2022.
Here is an overview of the game, via Square Enix:
■ Product Concept

The birth of a new simulation RPG with cutting-edge graphics.

An all-new simulation RPG brought to you by Square Enix. Combining our skill and experience in crafting great stories with real-time strategic elements, we have created an simulation RPG that may look familiar at a glance, but provides something never seen before. This game offers a truly unique experience from both its story and its gameplay.

An All-New Simulation RPG from Square Enix – An all-new simulation RPG that chronicles an epic tale of war and honor. Features a unique world depicted using beautiful graphics that blends fantasy, medieval, and modern-day influences, and a deep, yet innovative real-time battle system.
Deep, Strategic Real-Time Battles – The battles in this game are defined by swift assessment of battlefield conditions and issuing decisive orders that take advantage of your troops' strengths and weaknesses to gain advantage over your foe. Make clever use of a variety of skills, classes (troop types), and equipment to attack the enemy and complete your mission.
Realistic "Diorama"-Style Battle Scenes – The natural environment and cultures of the island of DioField combine with unique "diorama"-style textures to create a clear and beautiful visual aesthetic.

■ Product Outline

Title: The DioField Chronicle
Genre: Simulation RPG
Platforms: PlayStation 5, Xbox Series X|S, PlayStation 4, Xbox One, Switch, PC (Steam)
Release Date: 2022
Regions Available: North America, Europe, Japan, Asia
Voice Languages Supported: Japanese, English
Text Languages Supported: Japanese, English, French, German, Chinese (simplified and traditional)
Online Features: None
Publisher: Square Enix
Developer: Square Enix and Lancarse

■ Key Project Staff

Producer and Planner: Hirata Shigeyuki (Square Enix)
Directors: Kumagai Takahiro (Square Enix), Fukui Hirofumi (Lancarse)
Character Design: Taiki (Notable Works: Lord of Vermilion III, IV)
Concept Art: Kamikokuryo Isamu (Notable Works: Final Fantasy XII, Final Fantasy XIII)
Sound Composers: Ramin Djawadi, Brandon Campbell (Notable Works: Game of Thrones)

■ Game System

Basic Gameplay Flow

The DioField Chronicle is a simulation RPG that tells an epic tale of war and military intrigue, where you struggle for victory alongside numerous different forces. The player will participate in war council events to plan strategy, select missions to tackle, and train up their units before taking to the field to command them in real-time battle.

Numerous Events that Draw You into the Story

Rumor, intrigue, the fires of war, human drama, and the histories of a unique cast of characters are depicted through amazingly detailed event scenes that draw you into the world and story of DioField.

—Narration Sequences

Beautiful illustrations that depict changing of the times and the narration that move them along are one of the standout features of the game.

—Briefings

Briefing scenes where the current tactical situation and an outline of the the coming operation are explained on a tabletop map are important for following the flow of events and the interactions between characters.

HQ

Andrias can be controlled freely while at camp. Talk to members of your mercenary company, enhance your units and their equipment, and prepare for your next mission.

—Purchasing and Developing Weapons

Weapons can be bought from shops or developed by collecting and processing raw materials. Each weapon has its own attached skills and different characters can equip different weapon types.

—Enhancing Units

Units can be enhanced using "commendations." Each different unit can learn various different skills to prepare them for the battle to come.

—Army Composition

A unit is made up of a leader and adjutants, with the leade rdeterming the overall status of the unit and the skills it can use and adjutants bringing additional skills.

—World Map

Select a mission to attempt and review the nature of the operation. Compelting the different victory conditions set for each mission allows you to claim rewards.

Battles

Battles play out in real-time. Issue orders to the various divisions of the Blue Fox mercenary company and complete your mission. Split-second tactical decisions are the key to securing victory.

—The Fundamentals of Battle

Battles essentially play out in real-time. Select a unit from your army and instruct it to move or attack in a suitable manner. You can also select to issue orders to all units at once, so adapt your commands to the situation at hand.

—Ambush Attack

Use one unit in a defensive role to weather enemy attacks and then maneuver another unit around behind to attack from the rear. This strategy is called an "ambush attack" and inflicts massive damage.

■ World

The Era of Myths Gives Way to an Era of Great Turmoil

War looms dark over the Rowetale Mainland, and, amid the unrest… Commanding a disciplined army and versed in Modern Magic, the Empire is a power to be reckoned with. It promptly establishes control over the western part of the continent.

Despite their combined strength, they were largely powerless to resist the Empire's advance.

The continent was ravaged by the devastating war between the Empire and The Alliance. However, one nation remained unaffected by the chaos. The Kingdom of Alletain on Dioheld Island, situated off the north-western coast of Rowetale.

On the mainland, the war reached a stalemate when the powerful Vherman Republic joined forces with the Alliance.

The two sides were now evenly matched. However localized fighting continued to intensify in a bid to secure Jade, a resource for Modern Magic. With Jade believed to be abundant on DioField, the attention of both the Empire and the Alliance inevitably turned towards island.

The Kingdom of Alletain, Ward of the Aurgus, looked destined to have its soil stained with the blood of battle.

The Nations that Dominate DioField Island

—Kingdom of Alletain

A nation that was forged when the Shaytham dynasty united the territories of DioField Island, situated to the northwest of the continent of Rowetale. Over 200 years have passed since the rule of the crown was first established. It is said that the island is rich in Jade, the raw material required to power Modern Magic.

—Schoevian Empire

War looms dark over the Rowetale Mainland, and, amid the unrest… Commanding a disciplined army and versed in Modern Magic, the Empire is a power to be reckoned with. It promptly establishes control over the western part of the continent. WIth Jade believed to be abundant on DioField, the attention of both the Empire and the Alliance inevitably turned towards the island.

—Rowetale Alliance

Rowetale's other nations respond by forming an alliance to combat the threat of the Empire… Despite their combined strength, they were largely powerless to resist the Empire's advance. On the mainland, the war reached a stalemate when the powerful Vherman Republic joined forces with the Alliance.

The Setting for the Story: The Island of DioField

—DioField Island

The sixth largest island in the world, separated from the Rowetale Mainland by a stretch of ocean. The island is scattered with the remains of an ancient and bestial race called the Aurgus, who were its inhabitants long before the coming of humanity. This land is also rich in the mineral Jade, prized for its use as a base ingredient in magic and sorcery. With the exception of the unexplored frontier lands and Middenfield; political heart of Alletain and home of the royal capital and Granvel Cathedral, DioField Island is divided into northern, southern, eastern, and western regions, each with their own unique quirks and cultures.

—Kingdom of Alletain

A nation born when the Shaytham dynasty united the island of DioField. It has now been over 200 years since the rule of the crown was established. With the island vaunted as being near unassailable from outside attack, Alletain has only conducted a bare minimum of diplomacy over the years and prospered in unique directions during its isolation. The royal capital is a sizeable castle town, nestled between Alletain castle and a mighty river.

■ Characters

Andrias Rhondarson (voiced by Toby Regbo in English, Nobuhiko Okamoto in Japanese)

Age: 20
Height: 176cm
Weight: 66kg

"Aye, it is over now."

One of the four heads of the Blue Foxes. He is a calm, cool, and resourceful leader.

As a child he caught the eye of a nobleman who recognised something special in him, and after being trained as a soldier he became the chamberlain and bodyguard of the fourth in line to the throne, Prince Levantia Shaytham.

He has studied strategy and tactics, and is well-versed in the Ancient Sorcery that has been passed down on DioField through the generations. He has numerous talented agents in his employ, and is skilled in the art of subterfuge.

Fredret Lester (voiced by Jonno Davies in English, Junichi Suwabe in Japanese)

Age: 21
Height: 184cm
Weight: 78kg

"Therefore I ask you all to lend me your strength, that I may right this kingdom's wicked path!"

One of the four heads of the Blue Foxes.

He and Andrias have known each other since childhood and share a strong bond of brotherhood borne from the life-threatening situations they've faced together. He is kind-hearted and naive, perhaps due to his upbringing in a beautiful natural environment. People admire him for his directness and honesty, but he has a tendency to become obsessed with whatever he is passionate about.

Possessing superb physical attributes, he could easily serve as an infantryman, but opts to leverage his fine riding skills and freely gallop across the battlefield on horseback.

Iscarion Colchester (voiced by Jacob Collins-Levy in English, Jun Fukuyama in Japanese)

Age: 23
Height: 180cm
Weight: 72kg

"And I realized how important it is to have allies to come to your aid in a pinch."

One of the four heads of the Blue Foxes. The son of a minor noble, he followed the Colchester tradition of joining the local order of knights.

When a tragic incident arose, he left and became a knight-errant, travelling alone across the kingdom. While often aloof, he will never ignore those in need and because of this is respected by his subordinates.

He is a prodigiously talented archer, which served him well while working as a mercenary.

Waltaquin Redditch (voiced by Sorcha Groundsell in English, Inori Minase in Japanese)

Age: 17
Height: 164cm
Weight: 43kg

"What a treat, I simply cannot resist…"

One of the four heads of the Blue Foxes and a noblewoman of the esteemed House Redditch.

Born the daughter of one of Suffield's most prominent noblemen, she has been spoiled her entire life. Accordingly, she can be selfish and arrogant, but her grace, intelligence, and natural beauty are undeniable.

She became interested in magic at an early age, and after immersing herself in wide-ranging studies of Ancient Sorcery, she developed into a peerless magicker.

Izelair Wigan (voiced by Sabrina Bartlett in English)

Age: 16
Height: 160cm
Weight: 46kg

"Why must knights always complicate things with their supposed honor and pride?"

A Blue Fox and the only daughter of Zoruaq Wigan, a famous mercenary of legendary skill.

She inherited her father's fighting prowess and is known for her swift and dextrous swordsmanship. Preferring to avoid bloodshed when possible, she nonetheless proactively seeks out opponents. Sensible and kind-hearted, she is often compelled to turn a blind eye to the horrors unfolding around her on the battlefield.

Lorraine Lucksaw (voiced by Ellie Heydon in English, Miku Itou)

Age: 22
Height: 168cm
Weight: 48kg

"I… I am a Blue Fox."

An administrator for the Blue Fox mercenary company, who also acts as their intermediary with the government.

A woman belonging to House Luckshaw, a mid-rank noble house. Hailed for her abilities ever since youth, her keen intellect made her all the more rankled by the unequal treatment those of her gender faced. She ran away from home at the age of 16 when her father tried to force her to marry, and aiming to make her way in society, entered an academy funded by Duke Hende.

After graduating she became a high-ranking official within the government, and eventually became so well-known that her father was forced into a reconciliation to save face. Soon after, Duke Hende asked for her help in forming a new mercenary group. She gladly accepted, feeling indebted to Duke Hende who had recognised her talent from the beginning.

Hezeliah Shaytham (voiced by Fern Deacon in English, Misuzu Yamada in Japanese)

Age: 13
Height: 153cm
Weight: 38kg

"If you shall allow me to remain with you, I shall do whatever you ask."

The princess of Alletain, born to King Regalt and the third queen Stella, also the mother of Levantia Shaytham.

When the war for the throne became more bloody, King Regalt arranged for the royal family to escape Middenfield and live in seclusion. However, second prince Victor and his close ally Lord Kimble kidnapped the family and imprisoned them in Beasel Tower deep in the mountains. She gives up on the idea of ever being rescued, and resigns to her fate of being kept in her birdcage.

William Hende (voiced by Mark Rowley in English, Kenjiro Tsuda in Japanese)

Age: 37
Height: 175cm
Weight: 65kg

"The offer was unacceptable."

The head of House Hende, a noble house that has gained considerable power in a short amount of time.

William had gone to the continent to study in his youth, and used the knowledge he gained there to help his family gain fame and fortune upon his return. He made an enormous profit by trading Jade to other nations, and used the money to expand his territory. He also embarked upon his own business by incorporating technologies from the continent, which allowed him to become one of the wealthiest people in the kingdom.

When he was selected to be a council or on the Lords Council, he set up his own order of knights, and has been building up his own military ever since.
Watch the announcement trailer below. View the first screenshots at the gallery. Visit the official website here: English, Japanese.
Trailer
English
Japanese
Screenshots