Horgihugh and Friends launches June 16 in the west
Become the world's last wings of hope.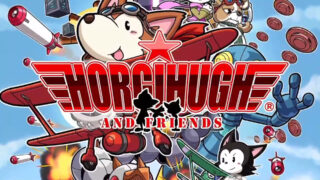 Side-scrolling shoot 'em up Horgihugh and Friends will launch for Switch on June 16 in the west, publisher Aksys Games and developer PiXEL announced.
Horgihugh and Friends first launched for Switch via Nintendo eShop on June 3, 2021 in Japan.
Here is an overview of the game, via Aksys Games:
At the end of a brutal war, countries dismantled their weapons.

When the Gozareans attack, two pilots realize their trusty vintage fighter planes are the only means of combating the alien's powerful technologies.

Hugh and Figaro are the world's last wings of hope.

This horizontal side-scrolling shooter features vibrant retro graphics with artwork by Kou (Mega Man 2X, Shantae) and music by Motoaki Furukawa (Gradius II, Metal Gear, Policenauts).
Watch a new trailer below.