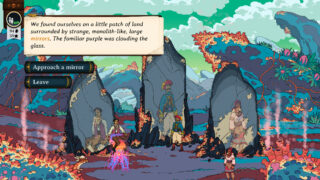 The PlayStation 4 and Xbox One versions of Curious Expedition 2 will launch on March 17, Thunderful Publishing and developer Maschinen-Mensch announced.
Additionally, the downloadable content "Highlands of Avalon" will be available on the same day for all consoles, including Switch. It brings a new island type to the base game, a new mechanic related to traversing hills and valleys, a new tribe called the Picts, eight new recruitable characters, new equipment, new enemies, and more. The add-on first launched for the PC version on November 16, 2021.
"We are so excited to reveal that Curious Expedition 2 will soon be out on PlayStation and Xbox," said Maschinen-Mensch co-founder Johannes Kristmann in a press release. "Creating this game has been quite the journey in itself… For all you adventurers out there, we wish you good luck on your travels. The base game and the 'Highlands of Avalon' downloadable content are just the beginning—with two additional downloadable contents planned, now also on these consoles, there's a lot more to come from us in the future!"
Curious Expedition 2 first launched for PC via Steam on January 28, 2021 following an Early Access period that began on June 17, 2020. The Switch version followed on August 11, 2021.
Here is an overview of the game, via Thunderful Publishing:
Curious Expedition 2 is a Jules Verne-inspired pulp adventure in a reimagined version of the late 19th century that uses procedural gameplay and story elements to create completely unique and epic adventures every time you play. Both the players' character and those they recruit are all procedurally-generated with specific classes, their own unique look, abilities, strengths, and weaknesses. On your adventures, all manner of unforeseen circumstances can positively or negatively impact your progress, so careful resource and sanity management is needed to make it back home with your spoils—and your team!
Watch a new trailer below.