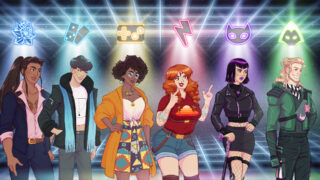 Visual novel Arcade Spirits: The New Challengers will launch for PlayStation 5, Xbox Series, PlayStation 4, Xbox One, Switch, and PC via Steam on May 27, publisher PQube and developer Fiction Factory Games announced. A physical edition will be available for PlayStation 5, PlayStation 4, and Switch.
A new trailer was also released, which introducing the following characters:
Domino – A shy individual who struggles to form real attachments. While he may sometimes have a bleak outlook on life he will do anything for his friends.
Grace – A genius in her own right, she helped develop several pieces of innovative technology but prefers the life of an indie game developer.
Jynx – Don't let the icy stare scare you away. Jynx can come across as intimidating but in reality, she's just pragmatic while showing a fierce loyalty to those close to her and their needs.
Locksley – The thief with a heart of gold. As his namesake suggests, Locksley loves nothing more than helping those in need whilst attempting to bring down big corporations.
Rhapsody – Knows everything there is to know about strategy. They are an expert in all things Fist of Discomfort related and a top-notch shoutcaster to top it off!
Zapper – To say that she is passionate would be an understatement. Zapper is highly competitive and likes to do everything at 110 percent.
Watch the trailer below.