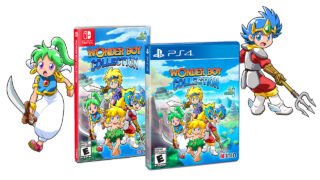 Following a retailer leak late last week, publisher ININ Games and developer Bliss Brain have officially announced Wonder Boy Collection for PlayStation 4 and Switch. A release date was not announced.
Strictly Limited Games will also sell limited and collector's editions for Wonder Boy Collection in celebration of the series' 35th anniversary. Pre-orders will open soon.
Here is an overview of the collection, via ININ Games:
Celebrating the beloved adventures of Wonder Boy!

Throughout the 1980s and 1990s, the adventures of Wonder Boy have delighted gamers of different generations and built up a huge following all over the world with their dazzling blend of energetic platforming and action RPG. Since its first launch Wonder Boy has seen many sequels and remakes of the original game. However, the Wonder Boy games have seen very limited release in the west on modern gaming hardware— until now! To celebrate the legacy of this iconic game series, we are creating a carefully curated collection of essential titles of the Wonder Boy series, precisely ported to today's home consoles and including extended features!

With the Wonder Boy Collection, Wonder Boy fans get a total of four games of one of the most influential series from gaming's past. Coming boxed and digital! Including:

Wonder Boy (1986) – Help Boy to rescue his girlfriend Tina, who got captured by the evil King. Guide him carefully through different areas and battle the devious enemies that await you on your quest. Use a variety of items that help Boy on his adventure. Face the evil King in various battles to reach your aim and rescue Tina!
Wonder Boy in Monster Land (1987) – Years after the adventures of Wonder Boy the beautiful peace in Wonder Land was destroyed once again by the invasion of a dragon with its evil monsters turning Wonder Land into Monster Land. Help Book to fight the monsters, defeat the dragon and restore the peace for the land and its people again. On your journey, you can collect equipment and magical spells to help you in your battles. But beware – every round has a time limit so you got to be quick!
Wonder Boy in Monster World (1991) – Guide the young adventurous Shion and help him on his quest to defeat the evil BioMeka and his army of monsters that are threatening the land. However, Shion is not alone! Accompanied by the 4 spirits Priscilla, Hotta, Shabo and Lotta, he explores the different regions of Monster Land. Collect money, weapons, armor and magic spells to get stronger and defeat the evil!
Monster World IV (1994) – The young girl named Asha sets out on her mission to save the four spirits that were captured by the evil wizards. With the help of Asha's loyal companion Pepelogoo, they overcome every obstacle and fight their way through various enemies!
Key Features

Four of the most iconic Wonder Boy games ever released.
Filter and shader.
Rewind / fast forward option.
Save anytime option.
Beautiful art gallery.
Nostalgic with vibrant pixel art and crisp chiptune audio.
Simple and welcoming for new players.
Enough fun, depth and challenges to captivate even the most skilled gamer.

Whether you're a series fan or a newcomer looking to experience a gaming legend, the Wonder Boy Collection brings the perfect package! The Wonder Boy Collection will also be available as digital version at the Nintendo eShop and PlayStation Store by BlissBrain.
Watch the announcement trailer below. View the first screenshots at the gallery.