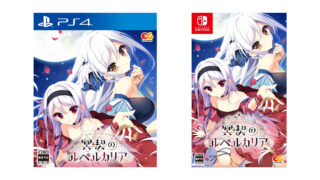 Entergram will release Uguisu Kagura-developed romance visual novel Meikei no Lupercalia for PlayStation 4 and Switch on June 23 in Japan for 7,678 yen, the publisher announced. Pre-orders are live at retailers such as Biccamera and Rakuten Books.
A 10,970 yen Premium Edition will also be available, which includes an A6-size acrylic panel, A3-size poster, and a theme song single CD.
Meikei no Lupercalia first launched for PC on February 26, 2021 in Japan.
Here is the story synopsis, via VNDB:
"There is only one method to equal gods. It's to become cruel like gods." — Salvador Dali

A prodigious young actress passed away. At the end of the magnificent play, the highly esteemed girl found a kernel of truth.

Years pass and spring arrives. In a freshman welcoming party, a certain program will catch the protagonist Sewa Tamaki's eye.

"Welcome to the Lampyris Troupe!"

A guerilla public performance that would be held by a student theatre group. The protagonist, once debuted as a child prodigy but now left the path of the theatre arts, indulged in nostalgic memories.

"Let's peek in for a bit."

An irrational story born out of curiosity. Once the curtain for the tale unfolds, it probably won't stop until the very end.

An airhead girl who loves to act, Kakehashi Kohaku. Theatre arts' poster child, Nionomiya Meguri. A net idol currently rising in popularity, Amatsuka Nanana. The girl working behind-the-scenes who gave up acting, Hakadori Rize.

"Let's make it the best play!"

They would perform a public play based on Norse mythology entitled "Philia." While bathed under the dazzling spotlight, they who dance the tale are beautiful.

The white hair with red eyes leads the way. To a convenient conclusion for you.