Next Dragon Age currently "right in the middle" of production
More to come later in 2022 via blog posts and social content.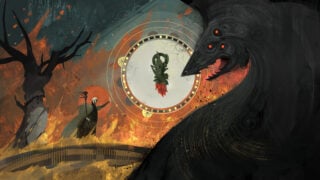 The next Dragon Age game is currently "right in the middle of production," BioWare general manager Gary McKay said in a blog post.
"Our blueprint was completed last year, so we're now focused on building out our vision: creating amazing environments, deep characters, strong gameplay, impactful writing, emotional cinematics—and much more," McKay said. "The blueprint for the game is well understood and the team is focused."
The game is being led by a 'strong team' of industry and Dragon Age veterans, including production director Mac Walters, who recently led the development for Mass Effect Legendary Edition and has been with BioWare for 18 years; game director Corrine Busche, who has been at Electronic Arts for 15 years and 'has a passion' for the franchise; and product development director Benoit Houle, who has worked on every Dragon Age game to date after starting at BioWare over 16 years ago.
More information on the new Dragon Age will come in the form of blog posts and social content later in 2022. McKay also promises to be in regular communication with players who sit on the BioWare community council as it moves through development.