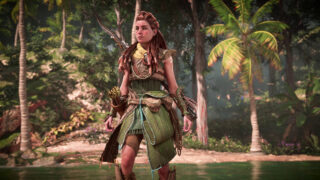 Publisher Sony Interactive Entertainment and developer Guerrilla Games have released a new trailer for Horizon Forbidden West introducing the challenges of the Forbidden West.
"The open world of Horizon Forbidden West is a true playground for players," reads the video description. "An expansive world full of danger and adventure—and Aloy will need a lot of tools, weapons, and skills to survive what her enemies will throw at her. In this special short, find out more about how Aloy can thrive and strategize in an increasingly threatening world."
Horizon Forbidden West is due out for PlayStation 5 and PlayStation 4 on February 18.
Watch the trailer below.