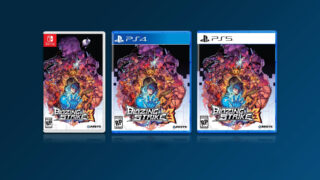 Blazing Strike will launch for PlayStation 5, PlayStation 4, Switch, and PC via Steam this fall, publisher Aksys Games and developer RareBreed Makes Games announced.
A limited edition will also be available, which includes a full-color art book, a double CD soundtrack, and a set of collectible character cards.
Here is an overview of the game, via Aksys Games:
Inspired by classic arcade fighting game series from industry greats such as Capcom and SNK, Blazing Strike evokes the excitement and nostalgia of 2D pixel art genre pioneers while incorporating a unique games system with modern mechanics.

Blazing Strike features a four-button system with six normal attacks: light, medium and heavy punches and kicks, as well as three defense moves: block, guard and parry. A Rush Trigger enables fighters to execute fast-paced attacks and movements, but using it will slowly drain the Rush Meter, sending the character into a temporary groggy state. This allows players to execute exciting combos while having to manage the Rush Meter. The game will include three play modes: Story Mode, Arcade Mode, and VS Mode, with training, sparring, and online match via Persona AI, and online play powered by GGPO.
Watch a new set of gameplay videos below.
Shinsuke vs. Jake Game 1
Shinsuke vs. Jake Game 2