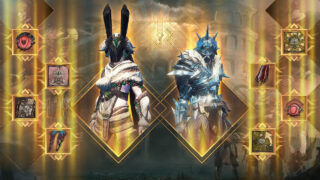 Publisher Square Enix and developer PlatinumGames will release a demo for Babylon's Fall for PlayStation 5 and PlayStation 4 on February 25, the companies announced during the game's third official broadcast.
In the demo, players can enjoy up to four-player online multiplayer starting from the game's opening, including the tutorial. Save data from the demo can be transferred to the full version of the game when it launches.
The Season 1 "The Eternal Ziggurat" Premium Battle Pass was also announced. Babylon's Fall will receive major updates every three months as part of a "Seasons" cycle, with the first Season "The Eternal Ziggurat" scheduled to run from February 25 to May 31. Each Season will include both free and paid Battle Passes that allow players to earn premium rewards through gameplay. But for the first Season, the regularly paid Premium Battle Pass will be available free of charge.
A Battle Pass is a system that allows players to earn various rewards by accumulating Battle Points (BP) by clearing missions and quests, and advancing to each new Tier. The Free Battle Pass is free to all players, and its rewards include boost items that increase the amount of experience points and in-game currency gained. The Premium Battle Pass costs 1,000 GARAZ (in-game credit), and its rewards include cosmetic equipment, appearance, emotes such as appearance and victory effects, and more.
Babylon's Fall is due out for PlayStation 5, PlayStation 4, and PC via Steam on March 3. Users who purchase the Digital Deluxe Edition can access the game three days early.
Thanks, Games Talk.