The Fox Awaits Me coming to PS4 on September 8
Currently available for Switch.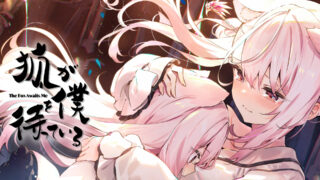 COSEN will release visual novel The Fox Awaits Me for PlayStation 4 on September 8 for 4,400 yen, the publisher announced. It will support English, Japanese, Korean, Traditional Chinese, and Simplified Chinese language options.
A 9,680 yen limited edition will also be available, which includes a soundtrack CD, theme song CD, mascot figure, and digital art book download code.
The Fox Awaits Me first launched for iOS and Android in November 2017 in Korea, followed by Switch in April 2020 worldwide.
Here is an overview of the game, via Nintendo.com:
When I came to, I was in a bamboo grove.

I was in a stupor, so I didn't know where I was, and I couldn't remember who I was. There was one bell on a bamboo branch that was ringing as it swayed in the wind. While still charmed by it, I took this somewhat strange bell and hung it from my neck. "home."

I started to walk through the bamboo grove.

That's when the wind suddenly fluttered around me, and when I looked back at that moment, I saw a small, pale hand.

"Master… is that you…?"

A single fox girl was standing there. She was crying and looked very happy.

The fox girl Shua yearns for the main character Kaito while they live in the forest near a pond, the Mountain Deity Mim interferes with Kaito and Shua, and the Grim Reaper Karin accidentally almost kills Kaito.

Once they meet, the sad fate of the fox and the boy springs into action again. Can Kaito who lost his memories oppose that fate?

The Fox Awaits Me is a visual novel with multiple choices and endings that features stunning Live2D animation, and swings between sadness, high-energy comedy, and nail-biting fear.
Watch the opening movie for the PlayStation 4 version below. Visit the official website here.