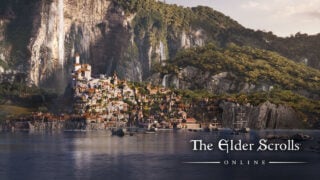 Publisher Bethesda Softworks and developer ZeniMax Online Studios will introduce "a never-before-seen world and a tale that has yet to be told" for The Elder Scrolls Online via a Twitch live stream on January 27 at 12:00 p.m. PT / 3:00 p.m. ET, the companies announced.
The live stream will provide a first look at the upcoming Chapter and downloadable content that make up this year's "exciting" releases for The Elder Scrolls Online.
"Get ready to explore new lands, uncover new dangers, and experience all-new stories in the ever-growing world of The Elder Scrolls Online!" Bethesda Softworks teased.
The Elder Scrolls Online is available now for PlayStation 5, Xbox Series, PlayStation 4, Xbox One, PC via Steam and Bethesda.net, and Stadia. PlayStation 5 and Xbox Series versions are also planned.
Watch a teaser trailer below.