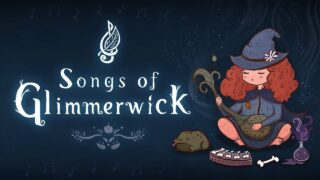 Eastshade developer Eastshade Studios has announced Songs of Glimmerwick, a story-driven witch academy RPG coming to consoles and PC (Steam) in 2023. Specific consoles were not confirmed.
Here is an overview of the game, via Eastshade Studios:
About

The land of Glimmerwick is well known for its university of magic—and as luck would have it, you're already enrolled! In this woodland fantasy world playing music is the secret to casting spells. Ancient songs make garden work a breeze, and they're also key to exploring every corner of the island. With your trusty flute and songbook at your side you'll attend classes and join after school clubs, make friends with classmates and townsfolk, and uncover Glimmerwick's many oddities and mysteries—all while enjoying a year of seasons, festivals, curses, and witchy hijinks in this peaceful, story-driven RPG.
Key Features

RPG Style Quests – Unfolding narrative quests with a focus on unique characters and story.
Tend the University Garden – Plant the mundane! Grow the arcane! Summon up clouds to bring forth the rain!
Every Song a Spell – Use the power of music to speak with the trees, enchant tools to work all by themselves, raise the earth to surmount natural impasses, and more!
A Lively World – Classes to attend, mysterious rumors, local drama, and bustling festivals — The students, staff, townsfolk, and spritely creatures of Glimmerwick have rich stories and lives.
Fully Voiced – Dialogue is brought to life with fantastic performances for every character major and minor.
Character Progression – As you gain experience in your adventures, choose from skills which will help you garden, trade, or acquire special abilities, like speaking to frogs!
Customizable Appearance – Choose how you look.
Extra Curricular Activities – There's lots to do in Glimmerwick outside of classes—explore the island, try out for the mothracing team, dive for seashells, or join the Green Sprites on forest expeditions.
Watch the announcement trailer below. View the first screenshots at the gallery.