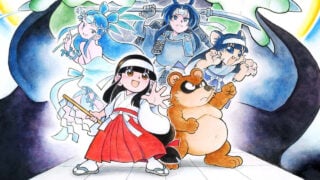 Publisher Natsume Atari and developer Tengo Project have released the third official trailer for Pocky & Rocky Reshrined, dubbed the "Character Trailer," as well as new screenshots and information.
Get the details below.
Pocky (Sayo-chan)
Rocky the Tanuki (Manuke)
Ame no Uzume (English name to be announced) (New)
Ikazuchi (English name to be announced) (New)
Gozen Hotaru (English name to be announced) (New)
Story Mode

The Black Mantle that should have been defeated in the original Pocky & Rocky lived!? The Black Mantle's traps stand before Pocky and Rocky the Tanuki! Unravel the mystery of the Black Mantle with help from the allies you meet during your adventure!

—Extra Easy Mode

If you are not good at action games, Extra Easy Mode allows you to enjoy Pocky & Rocky Reshrined until the very end.

You can unlock it by collecting a certain number of coins dropped by enemies during the game.

Free Mode

Choose your favorite of five playable characters and attempt to clear every stage. Two-player cooperative multiplayer is also supported.

For the Switch version, each player can play with a single Joy-Con.
Pocky & Rocky Reshrined is due out for PlayStation 4 and Switch on April 21 in Japan, and this spring worldwide.
Watch the trailer below. View the screenshots at the gallery.
Update 01/27/22 at 9:00 a.m.: Watch the English version of the trailer below.