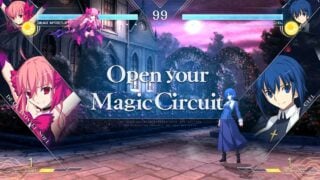 Project Lumina has released the second gameplay video for Melty Blood: Type Lumina featuring downloadable content character Dead Apostle Noel versus Ciel, who is due out on January 13.
If you missed it, catch the first video here.
Here is an overview of the video, via Project Lumina:
Ciel has her hands full defending herself against Dead Apostle Noel's "Skewered Pigeon" and "Skewered Pork" attacks. She bides her time until there's a gap in the attacks and she is able to trap Dead Apostle Noel with her Black Keys!

Dead Apostle Noel: Battle Style

She restrains opponents with projectiles and traps, in a battle style evocative of a dancing butterfly.

Ciel: Battle Style

A well-balanced fighter with many different skills for different situations and opponents, able to move freely across the stage with a huge variety of attacks.
Melty Blood: Type Lumina is available now for PlayStation 4, Xbox One, Switch, and PC via Steam.
Watch the footage below.
English
Japanese