Elden Ring goes gold
Day one patch currently in development.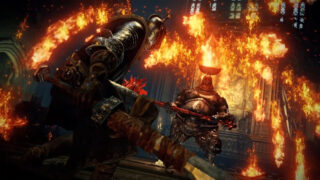 Elden Ring has gone gold, FromSoftware's Yasuhiro Kitao confirmed in a Taipei Game Show 2022 presentation video. That means core development is complete and the game is ready for mass production to meet its release date.
"[Development is going smoothly,]" said Kitao in the video. "Elden Ring was originally slated for release in January of this year, and it has been pushed back once to February. But please be assured, the title will be ready for sale on February 25. The master version has already been submitted, and right now, the team is working on a day one patch to make sure everything in the game is just so."
Kitao also touched on the game's length.
"This will differ significantly by player, but in terms of the targets set during development, the idea is that the main route should be able to be completed within around 30 hours," Kitao said. "The game as a whole is quite massive, and contains many dozens more hours worth of gameplay, but if we are talking about the main route only, it shouldn't take much longer than that."
Elden Ring is due out for PlayStation 5, Xbox Series, PlayStation 4, Xbox One, and PC via Steam on February 25.
Watch the full Taipei Game Show 2022 presentation video below.