Elden Ring 'Exploring Castle Mourne' gameplay
One of the game's numerous mini-dungeons.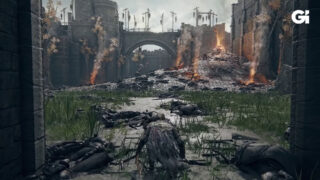 Game Infomer has published a five-minute gameplay video of Elden Ring exploring the Castle Mourne mini-dungeon.
"Elden Ring features numerous mini-dungeons like caves and catacombs to explore alongside giant sprawling dungeon crawls like Stormveil Castle," writes Game Informer's Daniel Tack. "Castle Mourne, nestled in southern Limgrave on the Weeping Peninsula, is a place where horrors abound. Chimeric leonine creatures and other surprises await the player should they dare approach. While this locale would fall into the mini-dungeon classification, it's substantially larger than any of the minor offerings that I experienced during my 10 hours of gameplay, with a dangerous approach and several checkpoints."
Elden Ring is due out for PlayStation 5, Xbox Series, PlayStation 4, Xbox One, and PC via Steam on February 25.
Watch the footage below.