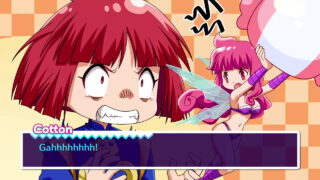 ININ Games has delayed Cotton Fantasy from its previously planned winter release window to this spring in the west. It will be available for PlayStation 4 and Switch.
Pre-orders for the physical standard edition are already available at a selection of retailers, the list of which will be constantly updated on the game's official website. Limited edition pre-orders are also available via Strictly Limited Games.
In Japan, Cotton Fantasy launched for PlayStation 4 and Switch on December 23, 2021, and is due out for PC by the end of the winter 2021 / 2022 season.
Here is an overview of the game, via ININ Games:
About

Cotton Fantasy is a brand-new entry in the Cotton series that sees Cotton and Silk embark on another adventure, this time in high-definition graphics and with modernized gameplay, but true to its roots!

Experience the most precise gameplay in the Cotton series, mixing up the iconic Cotton playstyle with a few new shoot 'em up mechanics, six iconic playable characters, and 16 colorful and varied stages to unlock, with vertical, horizontal, and 3D movement. Each character has their own mechanics and attacks, creating a lot of variation and replayability on your hunt for the high score.

Packaged with a light-hearted story full of charming, fun cutscenes, fully-voiced in Japanese, and an exhilarating soundtrack with iconic remastered tracks from the past, this is a great and accessible new shoot 'em up game for fans of the Cotton series and newcomers alike.
Story

Something sinister is in the making—the willows are vanishing from Fairyland and the Fairy Queen entrusts Silk with solving the case. Who could be behind this devious ploy? For a promised lifetime all-you-can-eat supply of tasty willows, the little witch Cotton is willing to help her old friend out and embark on another adventure together.

Key Features

High-definition graphics and brand-new shoot 'em up game mechanics.
Six iconic, playable characters to choose from, each with different mechanics and attacks, even including guest characters like Umihara Kawase (from the equally named series) and Luffee from Doki Doki Poyacchio.
Easily accessible shoot 'em up gameplay, perfect for newcomers, but with enough depth for veterans.
16 colorful and varied scrolling stages, with vertical, horizontal, and 3D movement.
Light-hearted story with fun and charming cutscenes voiced entirely in Japanese (English subtitles included).
Exhilarating soundtrack featuring iconic remastered tracks from past games.
Unlockable content and different characters offer high replayability.
Aim for the high score in your nation with the featured ranking boards.
Watch a new trailer below. View a new set of screenshots at the gallery.