The Matrix Awakens: An Unreal Engine 5 Experience now available
Experience the world of The Matrix in Unreal Engine 5.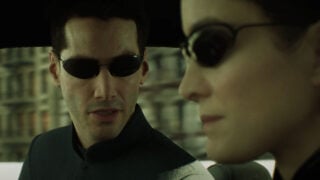 The Matrix Awakens: An Unreal Engine 5 Experience is now available for PlayStation 5 and Xbox Series, developer Epic Games announced.
Here is an overview of the technical demonstration, via Epic Games:
Prepare for a wild ride into the reality-bending universe of The Matrix, featuring performances by Keanu Reeves and Carrie-Anne Moss.

Created by members of the original movie team including Lana Wachowski, the demo morphs from breathtakingly realistic cinematic to fast-paced third-person shooter experience, complete with an action-packed car chase sequence, and also provides a rich, vastly detailed open world to explore.

Step into the world of one of the most iconic action franchises ever made and explore the future of interactive storytelling and entertainment.
Watch a 10-minute gameplay video below.