Soleil absorbs Valhalla Game Studios
Merger sees Valhalla Game Studios dissolved and its staff transferred.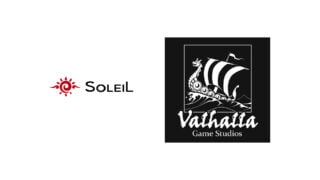 Soleil and Valhalla Game Studios, subsidiaries of Wake Up Interactive, have merged in an absorption-type merger with Soleil as the surviving company "in order to unify the management and operation resources within our group," the companies announced.
Through the merger, Valhalla Game Studios has dissolved and all of its staff transferred to Soleil. Takayuki Kikuchi, who was CEO of Valhalla Game Studios, has been appointed chairman and CEO of Soleil.
"It is our staunch belief that this merger will allow us to provide better services for our clients and it will certainly make a synergistic effect by improving management efficiency and unified operation resources," the companies said in a press release.
Soleil also launched a special website (English, Japanese) for its recently announced multiplayer ninja action game code-named Project EDO, which features an interview with Soleil CEO Yoshifuru Okamoto.
Get the full interview below.
—Please share with us how Project EDO started, and your thoughts behind it.

Okamoto: "First of all, there is a fundamental idea that game developers should continually pursue new ideas.

"I previously worked for Tecmo Co., Ltd. where I was engaged in the development of the highly successful Dead or Alive and Ninja Gaiden series of games. Once a game becomes a hit, however, the focus often shifts from creativity to securing a dependable revenue stream via sequels and the like. The opportunity to create new games steadily declines. Soleil was born in defiance of this mindset. If a creative challenge doesn't present itself, it's up to you to make one!

"That being said, a stable business provides the foundation on which creativity can flourish. In recent years clients have entrusted us with the production of several high-profile titles, including; Naruto to Boruto: Shinobi Striker, Samurai Jack: Battle Through Time, and Ninjala, and in doing so, the means to lay a solid studio foundation, one title at a time.

"It was precisely at this inflection point that we first began discussions with Tencent. With their powerful backing, our vision of taking on new challenges, and creating new gaming experiences, could take the next step toward becoming a reality. The first of these creations is Project EDO.

"I would like to create the best game entertainment from here in Japan with my colleagues who are passionate about creating new games."

—Please tell us more about Project EDO.

Okamoto: "Project EDO has two main themes.

"The first theme is to revive the power and appeal of games made in Japan. Until now we've mainly developed global products for home consoles, such as the PlayStation, Xbox, and Nintendo Switch.

"Since the formation of Soleil 13 years ago, however, smartphones have become ubiquitous, and the landscape of the industry has changed considerably. As gaming and content platforms have diversified, I feel that Japanese gaming industry's once-dominant position and presence in the global stage have diminished.

"There was a time where video games and 'Made in Japan' were synonymous. Ever since Nintendo first released the Nintendo Entertainment System (NES), domestic platform holders, such as as Sega and Sony, as well as overseas corporations, such as Microsoft, have all significantly grown the industry. Against this backdrop of friendly competition, Japanese games pushed the limit and took the lead. However, over the past 10 years or so Japanese games have lost their flare, and United States, European, and Chinese creators have grasped the reigns of innovation. I cannot help but think the lack of new game IPs and overreliance on established franchises hasn't played some small part in this.

"We've long desired to reawaken the power of the Japanese game industry, but this monumental task has proven difficult to accomplish on our own. However, through our partnership with Tencent, their powerful backing and extensive knowhow, I am excited at the possibility of once again creating amazing games that can proudly carry the label, 'Made in Japan .'

"The second theme is ninja x high-end action online multiplayer.

"Soleil is well-versed in developing action games that use katana; Naruto to Boruto: Shinobi Striker, Samurai Jack: Battle Through Time, and Ninjala. This experience has bestowed the knowhow and confidence to create world-class sword-based action games. By fusing this expertise with Tencent's robust online knowhow, I believe now is the time to take on the world stage.

"Our success is contingent on creating a synergy between large groups of players, and the feverish excitement therein. In our society there is a high level of respect for the individual. For better or worse, this individualism has segmentalized and fragmented our day-today actions. Opportunities to celebrate together in a festival-like atmosphere are all but relegated to the past. I want Project EDO to be a place where players can come together, communicate, and revel as one in the ultimate ninja action entertainment experience."

—Please share your vision of future business development including Project EDO.

Okamoto: "Our first and foremost goal is to leverage the best of Soleil and Tencent to ensure the success of Project EDO.

"The ultimate goal is to make Project EDO one of the most loved and played games of all time. Development will focus on creating a game with broad appeal, one that captures gamer's hearts and is enjoyed not only in Japan, but across the globe. Tencent's online expertise will play an essential role in making this dream a reality."

"As we continue to create top-tier games for our clients and lead Project EDO to success, I look forward to working together with Tencent on the next creative challenge."

"Last but not least, I would like to use this success as an opportunity to express my gratitude to the Japanese game industry, and give back to my seniors, who I have long admired and respected. At the same time, I would like to create an environment where young Japanese developers can take pride and passion in their work, just as I did when I was young."