Otome visual novel Ikemen Sengoku: Romances Across Time – Arata naru Deai coming to Switch on April 28, 2022 in Japan
First launched for PS Vita in March 2018.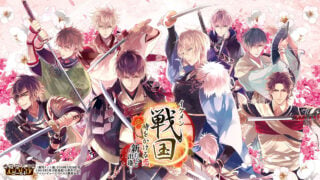 Publisher Idea Factory an developer Cybird will release otome visual novel Ikemen Sengoku: Romances Across Time – Arata naru Deai for Nintendo Switch on April 28, 2022 in Japan for 7,150 yen, the companies announced. A 9,350 yen limited edition will also be available.
Ikemen Sengoku: Romances Across Time – Arata naru Deai first launched for PS Vita in March 2018 in Japan. It is an upgraded version of the original Ikemen Sengoku: Romances Across Time released for iOS and Android in June 2015 in Japan and June 2017 worldwide.
Here is an overview of the base game, via App Store:
About

You've just nabbed your dream job as a fashion designer when you're sent hurtling back in time to an alternate version of Sengoku era Japan!

After accidentally changing history and earning the favor of warlord Nobunaga Oda by saving him from near death, you must survive 3 months surrounded by Japan's most famous and handsome Sengoku warlords before your next chance to make it back home. In a world where it takes one man to conquer a nation, do you have what it takes to conquer his heart?

Ikemen Sengoku: Romances Across Time, one of CYBIRD's most popular games in Japan, is finally out in English! Enjoy a vibrant, exciting story complete with engaging music, gorgeous illustrations, and character voices!

Key Features

Collect Gorgeous Illustrations! – With each character route, you receive three beautiful illustrations of your guy that will suck you right into his story! You can also receive illustrations through special in-game events!
Cute Avatars for Every Girl to Enjoy. Dress Up Your Guy As Well! – Experience more interactive otome gameplay with the in-game avatars! Extravagant kimono, beautiful Japanese rooms and gardens, and cute accessories all await you in this game. Collect hundreds of attire pieces to adorn your avatar. Limited edition attire pieces are constantly being added so that you can always stay up to date with the latest trends! Characters from the story are also available as avatars! Dress up your love interest for the perfect day out together.
Shape Your Story through the Choices You Make! – In Ikemen Sengoku, there are multiple endings available for each guy depending on the choices you make in the game. If you get enough points you might even receive a special epilogue with your one true love! Which happy ending awaits you? Play to find out!
Enjoy In-Game Story Events for a New Experience with Your Guy! – Ikemen Sengoku holds many free Story Events that require no Chapter Tickets to continue reading! Play to experience exciting mini stories outside of the main story. Get into new situations with your favorite guys, and clear endings to get bonus items and attire pieces! Team up with your friends to clear the events faster and get every event ending!