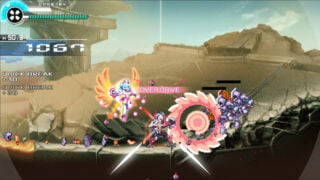 Inti Creates has released a new trailer for side-scrolling action game Gunvolt Chronicles: Luminous Avenger iX 2 introducing its English voice cast.
The game's English voice cast is as follows:
Copen (voiced by Alejandro Saab)
Lola (voiced by Cassandra Lee Morris)
Kohaku (voiced by Kira Buckland)
Null (voiced by Natalie Rose Hoover)
Dacite (voiced by Connor Colquhoun)
Vespa (voiced by Brittany Cox)
Autochrome (voiced by Daman Mills)
Brigade (voiced by Steve "Warky" Nunez)
Hail (voiced by Jennifer Losi)
Ace (voiced by Arin Hanson)
Narrator (voiced by Matt Papa)
Gunvolt Chronicles: Luminous Avenger iX 2 is due out for PlayStation 5, Xbox Series, PlayStation 4, Xbox One, Switch, and PC via Steam on January 27, 2022.
Watch the trailer below.