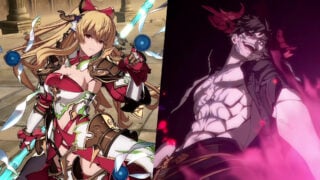 Granblue Fantasy: Versus downloadable content characters Vira and Avatar Belial will launch on December 14 via the "Vira & Avatar Belial Additional Character Set," publisher Cygames and developer Arc System Works announced.
Users who purchase the pack will receive a serial code for the Granblue Fantasy mobile game, which unlocks the outfit "Forbidden Alter Ego" for the protagonist and one Lapis Merit.
Here is an overview of each character, via Cygames:
Vira commands an impressive mid-range game, using her powerful normal and Luminiera-charged attacks. Her skills are enhanced after using her special or skybound art to transform.

She has a special victory cutscene against Katalina!

Avatar Belial consumes his own HP to unleash powerful skills. Time it right, and he'll take his opponents to the very limits of debauchery. On the other hand, his defenses are lacking, making him a fest-or-famine style pick.

Note: Colors / weapon skins are the same as Belial.
Cygames also announced the Granblue Fantasy: Versus "Legendary" and "Value" editions. Here are the details:
Price: $49.99 / 6,578 yen
Release Date

Digital: December 14, 2021
Physical: March 3, 2022

Includes:

Granblue Fantasy serial code bonuses (PlayStation 4 version only)

Bonus 1: Select 1 from the following: Gold Brick (x1), Sunlight Stone (x1), Sephira Evolite (x1), Damascus Crystal (x10)
Bonus 2: Receive both of the following: MC's outfit "Forbidden ALter Ego" and Lapis Merit (x1)
Bonus 3: All 11 codes from Character Pass 1 and 2, including your choice of one Astral weapon, all outfits, all stickers, and SSR character weapon draw tickets.

All Season 1 and 2 characters
New downloadable content characters Vira and Avatar Belial, including colors 5 to 19 for Vira

Price: $19.99 / 2,178 yen
Release Date

Digital: December 14, 2021
Physical: March 3, 2022

Note:

This product does not contain a bonus serial code for Granblue Fantasy.
Finally, the company shared the following information on future updates:
Version 2.70 (December 14)

New feature: Lunalu

Introducing Lunalu, a new random select character.
Fight as Lunalu's living sketches (Imagination overdrive?)
Playable character changes every round.
Appears in your match history as "Lunalu."

Battle adjustments (buffs for all)

Version 2.7x (Spring 2022)

Connection quality display

Version 2.80 (summer 2022)

New battle systems (planned)

Granblue Fantasy: Versus Character Poll

Vote for your favorite character to make it into Granblue Fantasy: Versus starting today.

Visit our official website or Twitter account for more information.
Granblue Fantasy: Versus is available now for PlayStation 4 and PC via Steam worldwide.
Watch a new trailer below. View a set of screenshots at the gallery.
English
Japanese