Kiss Trilogy coming to Switch on March 31, 2022 in Japan
Currently available on PlayStation 4.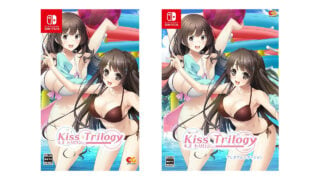 Entergram will release Giga-developed romance visual novel collection Kiss Trilogy for Switch on March 31, 2021 in Japan for 7,800 yen, listings at retailers such as 7net Online Shopping reveal.
A 10,000 yen Premium Edition will also be available, which includes the Hotch Kiss original soundtrack CD "Sweet Kiss," Kiss Bell original soundtrack CD "Smile Kiss," Kiss Ato original soundtrack CD "Melty Kiss," a making-of of Kiss Bell's console version opening "Kissing Bell," a making-of of Kiss Ato's console version opening "Sweet Sympathy," and special package art illustration.
Kiss Trilogy include Hotch Kiss, Kiss Bell, and Kiss Ato. The collection first launched for PlayStation 4 in August 2020.
Here is an overview of each game, via VNDB:
Hotch Kiss (VNDB)

Shigeru is a smooth-talking 2nd-year student at Tsunekusu Gakuen, which prides itself on offering an enjoyable school life for all students. To this end, there is a shop that almost every student knows about, selling everything from exam cheat sheets, scouting reports for upcoming matches, photos of girls, and even things that look like love potions. In the past, good luck charms for attaining love were also sold there and were quite popular.

This shop is known as 'gakuen seikatsu sougojo kenkyuukai' (research society for helping each others' school lives), shortened as 'gojoken'. Shigeru went to check it out of curiosity and instead found the school idol Yukino there as a replacement salesperson for the leader. Irritated at her awkward service, he decided to help himself, but ended up being mistaken for a salesperson by the other students. One day, Yukino called him up to the rooftop and gave him a stapler. She told him that it was a stapler of eternal bonds.

Kiss Bell (VNDB)

It was nearing the end of autumn when the volunteer Christmas club started up at Academy Ekoda. It has been a tradition that it will be run by the newly-appointed student council president. Ichio decided to help out with the club to make amends for causing trouble at the culture festival. He gradually got to know the other members better: the hardworking and reliable student council president Chiharu, her quiet best friend and class rep Yumi, carefree senior Ayano who understands him well, and earnest kouhai and public morals committee member Eri who keeps a watchful eye on him at all times. How will their relationships end up considering they all joined the club voluntarily? Surely, their future will be one that is full of joy.

Kiss Ato (VNDB)

Makoto attends a local school which specializes in the arts, but he didn't have much confidence in his ability. Nearing the end of his second year, he came to the workspace that was opened up to students to work on his year-end project. Sitting next to him was a girl from another class, Tsukuyo, who was famous for her art skills. After watching her work and seeing her art, he fell in love with her.