Horror visual novel Apathy: Narugami Gakuen Nana Fushigi announced for Switch
Due out in summer 2022 in Japan.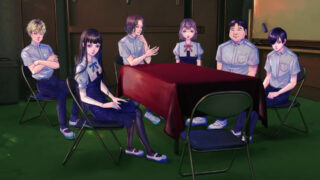 Mebius has announced Apathy: Narugami Gakuen Nana Fushigi, a horror visual novel for Switch by Gakkou de atta Kowai Hanashi writer Takiya Iijima. It will launch in summer 2022 in Japan.
Here is an overview of the game, via Mebius:
Shuichi Sakagami, a first-year student and member of the newspaper club, decides to listen to scary stories told by seven storytellers assembled by his upperclassmen to produce a feature on the school's seven wonders for the school paper.

However, when he opened the door to the club room, there were only six people.

He went ahead and started the meeting on the school's seven wonders without waiting on the seventh, unseen person, but a disturbing atmosphere filled the room.

The thought that he shouldn't hold this meeting crossed his mind, but it was too late to turn back.

What kinds of stories will the six people share? And what awaits him at the end…?

A massive-scale story and Takiya Iijima's largest yet. (There are currently over two million Japanese characters.)

The story is brought to life by suspicious, yet fascinating characters designed by Nami Kurama.

More information will be announced in February 2022.
Watch the announcement trailer below. Visit the teaser website here.