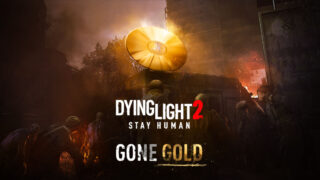 Dying Light 2: Stay Human has gone gold, publisher and developer Techland announced. That means the game is ready to be published and discs can now start to be manufactured.
"We are very excited about this and now we can truly feel that this is actually happening!" said lead game designer Tymon Smektala in a press release. "After so many years of hard work we are proudly looking forward to the release of Dying Light 2: Stay Human."
Smektala continued, "This is it. The final and crucial moment for us. The game is ready to be manufactured, but we will not slow down. The fact that the game is done and we hit the gold status two months before the release is a great sign but it doesn't mean that our work ends here. There are still some upgrades and tweaks to add, and community feedback to implement, but the base is solid and ready to play. I'm extremely proud of the whole team!"
Techland will spend the next two months before release implementing additional feedback from media and influencer hands-on preview sessions, as well as polishing and optimizing the game as much as possible.
15 minutes of new gameplay will be shown during Episode 5 of Techland's Dying Light 2: Stay Human video series "Dying 2 Know" on December 2 at 12:00 p.m. PT / 3:00 p.m. ET. You will be able to watch it on Twitch.
Dying Light 2: Stay Human is due out for PlayStation 5, Xbox Series, PlayStation 4, Xbox One, Switch, and PC via Steam and Epic Games Store on February 4, 2022. The Switch version is the cloud-only Dying Light 2: Stay Human – Cloud Version.