PUI PUI Molcar Let's! Molcar Party! announced for Switch
Due out on December 16 in Japan.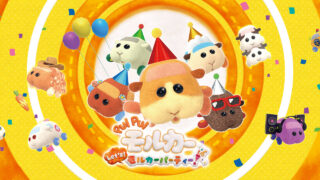 Bandai Namco has announced party game PUI PUI Molcar Let's! Molcar Party! for Switch, based on the Japanese stop-motion short anime series. It will launch on December 16 in Japan and Asia with English subtitles for 5,680 yen. A Digital Deluxe edition will also be available for 5,980 yen.
Here is an overview of the game, via Bandai Namco:
What is PUI PUI Molcar Let's! Molcar Party!?

Welcome to a brand-new town, Moltown! Only you and the Molcars can transform this barren burg into a bustling urban hub. And with that… let's party!

With 10 exciting minigames, that is! What's more, sharing Joy-Con controllers allows for up to four players at once.

Play alone or with friends—the wide world of Molcars beckons you!

Minigames: An exciting array of minigames awaits! Includes scenes from the show!

Step into the Molcar world with a medley of fun minigames spanning all genres! Throw a party, dance, even play soccer—cops and robbers too!

Up to four players can enjoy 10 minigames total!
Hanging Out: Enjoy endearing Molcar reactions!

More Molcars will flock to town once it begins to flourish!

There are over 40 Molcars for you to meet!

Find a favorite? Try feeding and petting it—you'll be best friends before long!

Lob a carrot into a crowd and watch the ensuing dash!

Dress-Up: Accessories galore for endless customization.

Flaunt your Molcar fashion sense with an assortment of over 80 accessories for you to mix and match with! These even include a wealth of game-original accessories you won't find elsewhere

The Photo Studio allows you to preserve any moment and customize it, too. Be sure to share your snaps!

Early Purchase Bonus for the Physical Edition

Early unlocks for the following five accessories:

Abbey-Only Accessory: Magical Angel Abbey
Potato's Driver
Santa Hat (Red)
Sunny-Side Up Eggs
UFO

Collector's Edition

Includes:

A copy of PUI PUI Molcar Let's! Molcar Party!
A plushie
Watch the announcement trailer below. View the first screenshots at the gallery. Visit the official website here.
English
Japanese