Otome visual novel / rhythm game I-Chu announced for Switch
Due out in spring 2022.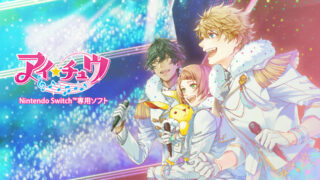 D3 Publisher and developer OperaHouse have announced otome visual novel / rhythm game I-Chu for Switch. It will launch in spring 2022 in Japan.
The Switch title is the first home console game in the I-Chu series. The original I-Cju launched for Android in June 2015 in Japan and iOS in July 2015, and ended service in July 2020. The current game, I-Chu: Etoile Stage, launched for iOS via App Store and Android via Google Play in April 2020.
Here is an overview of the Switch title, via its official website:
Story

Etoile Vio Academy is a school established by a certain famous office called Ailedore.

The school trains idols in the making to become full-fledged stars. As their teacher and producer, you will help them mature into established idols.

I-Chu is about idols in the making—on their way to becoming mature talents.

Cast

Akio Ootsuka
Atsushi Abe
Atsushi Tamaru
Ayumu Murase
Daisuke Hirakawa
Gakuto Kajiwara
Hiro Shimono
Hiroyuki Kagura
Junta Terashima
Junya Enoki
KENN
Katsufumi Yachi
Kazutomi Yamamoto
Kei Minegishi
Kenji Roa
Kohei Fujii
Kouhei Amasaki
Koutaro Nishiyama
Masatomo Nakazawa
Naoya Nakanishi
Natsuki Hanae
Ryouhei Kimura
Showtaro Morikubo
Souma saitou
Taishi Murata
Takashi Kondou
Takato Nagata
Tasuku Hatanaka
Tetsuya Kakihara
Tomoaki Maeno
Tomohito Takatsuka
Toshiki Masuda
Toshiyuki Toyonaga
Yasuaki Takumi
Yoshitsugu Matsuoka
Yoshiyuki Shimozuma
Yuuichi Iguchi
Yuuichirou Umehara
Yuuki Ono
Yuuma Uchida
Yuusuke Kobayashi
Yuusuke Shirai

Game System

By training I-Chu (cards), performing concerts, and increasing their favorability, you will be able to read stories about their interactions.

The cycle is: Concert –> Story –> Training (lessons, change).

With the new "seasons" system, you can enjoy events and scouting to your heart's content. The content released in the app version is divided into seasons, which once unlocked can be replayed at any time, allowing you to enjoy it at your own pace.