Aonatsu Line coming to Switch on February 24, 2022 in Japan
Currently available for PlayStation 4, PS Vita, and PC.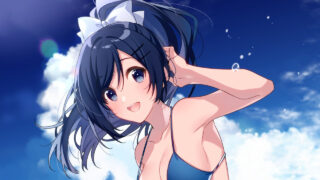 Entergram will release a Switch version of romance visual novel Aonatsu Line on February 24, 2022 in Japan for 7,480 yen, the publisher announced. A 10,780 yen limited edition will also be available.
The Giga-developed title first launched for PC in March 2019, followed by PlayStation 4 and PS Vita in April 2020.
Here is a synopsis of the game's story, via VNDB:
Tatsumi and his childhood friends Miki and Chihiro talked every day about what they would do during the upcoming summer vacation. By chance, they befriended the overly-honest ojou-sama Yui, who transferred to their school since she admired the co-education system, as well as kouhai Kotone, who had failed to make lasting friendships after trying too hard to fit in. This new group of five friends (?) began to plan for a memorable bittersweet summer vacation that happens only once in a lifetime.